Payment Error on Canada eTA Application
Published on: Jul 18, 2018 | Tags: Canada eTA Website Problems, Canada eTA Payment, Canada eTA Application Form
Introduction
So, you finished your Canadian eTA application, submitted it, and tried to pay. But when you entered your payment information, the website told you that you have a "payment error." You know you have enough money to pay for it, and you know your card is valid. So what is going on? Read on to learn why you may be having payment trouble and what you can do about it.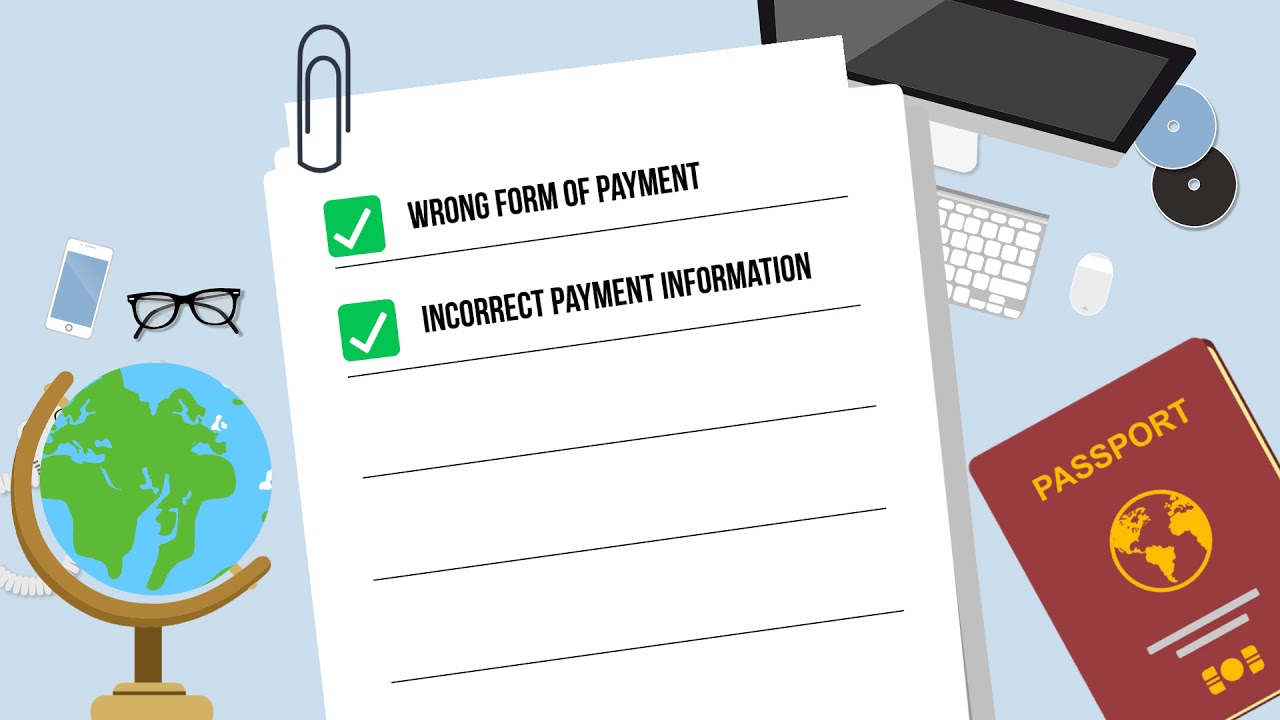 Payment Error on Canada eTA Application
Wrong form of payment
If you're having trouble paying for your eTA, double check to make sure you are using the correct form of payment. Unfortunately, not all forms of electronic payment are accepted when paying for an eTA application.
To pay for your eTA application processing fee, you must use one of the following forms of payment: a Visa, MasterCard or American Express credit card; a pre-paid Visa, MasterCard or American Express; a Visa debit card, a JBC Card; or Interac.
You entered your payment information incorrectly
If you are using the correct form of payment, make sure you put in your card or bank information correctly. This might seem like a no-brainer, but mistyping card or bank account numbers can be easy to do and hard to notice.
Something went wrong with your bank
If all your information is correct, you should call your bank. Maybe there is a problem on their end. You can find out if they are experiencing trouble with their system, or if your transaction was flagged and blocked. It's not unusual for international transactions to be flagged by your bank.
Your account balance is too low
If you are using a debit card, you may discover that you don't have enough money in your account. However, a payment error or decline is likely to happen if you are using a prepaid Visa card. Since it is not always simple to check the account of prepaid cards, you may have overestimated how much money you have on the card. If you think this may be the case, check the balance. You may need to use a different card or another form of payment.
The eTA processing website is down
Finally, there may be an issue with the Canadian eTA processing website. If you are absolutely certain that you are using the right form of payment and typed your information correctly, and if you have called your bank and they cannot find a problem, then you should assume it is a website error. This does not happen often, but it is possible.
If you are pretty sure that you cannot pay for your Canadian eTA due to a website error, the best course of action is to wait a couple hours and try again. This is not very convenient, since you may have to retype the entire application, but it might be your only option.
We hope this information helps you solve your eTA payment frustrations. Follow this advice, and you should be able to pay for your eTA before long. Good luck and best wishes for your trip to Canada.
Get the right travel authorization for Canada
If you hold a passport from a country that is eligible for the Canada eTA such as the UK, Ireland, Germany, France, Italy, Spain, Denmark, Sweden, Norway, or many other eTA eligible countries, you will need to obtain an approved eTA before your tourism, business or medical visit to Canada. Get started on your application, otherwise, visit the eTA requirements to learn more about the Canada eTA